So, not all of the travel we do here at The Moveable Chef is exotic. Or, at least not all of the destinations are exotic. Manchester, Tennessee appears to be a reasonably normal small American town for 360 days a year. I chose to be there during the 5 days when it was besieged by around 50,000 music lovers interested in seeing everyone from Sir Paul (McCartney) to Action Bronson.
In the time I spent getting there, I could have gone almost anywhere. I drove 10 hours to Chattanooga, where I spent the night, met a good friend who was hosting me in his RV, shopped, and then drove the hour and a half to Manchester. Door to door the trip was nearly 24 hours. I've flown to London, had meetings and lunch, and come home in the same time.
While the musical lineup was pretty eclectic, the food on offer remained pretty standard festival fare. Funnel cakes. Pizza slices. Vegan burritos. One could make a strong case that Bonnaroo isn't really a foodie destination. But — have knives, will travel.
I decided to focus on preparing dishes that were centered on fresh vegetables and high-quality proteins – as those were the hardest things to come by inside the festival gate. And there may have been some thought given to being a little decadent, as a thank you to the friends that I went with and that I met there. One result of all adding those considerations together was:
Surf and Turf with Grilled Vegetable Ratatouille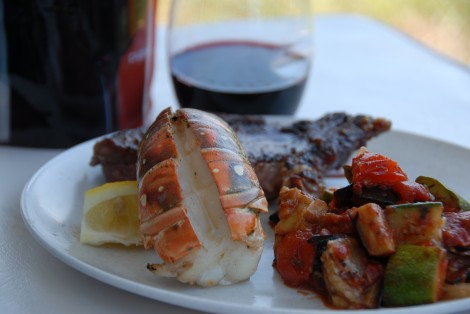 The nice thing about this combination is that it is all easily prepared on a small charcoal grill, with the exception of the ratatouille tomato sauce, and it's quick. I'll focus on describing the ingredients and method for the ratatouille, as the surf and turf involves throwing meat in the general direction of a grill. In this case the grill was a Weber Smokey Joe loaded with hardwood lump charcoal, which I think is about as small as one can go for grilling. I'll review it in a future post.
Rather than grilling the vegetables in a grilling basket, which is just something else to pack and carry, they are grilled in large slices and then diced after cooking. At the same time, the tomato-based sauce is made from canned tomatoes. If you have great fresh tomatoes available, they can be used instead. Grill them until softening and blackened, slip the skins off and then roughly chop them into large chunks as the tomato component. Don't worry too much about de-seeding them – use your judgment. You want a reasonably thick tomato base, rather than a watery sauce. I also used dried herbs in this preparation as they are easy to travel with. Obviously fresh herbs can be substituted, and fresh basil would add nicely to the dish.
Grilled Vegetable Ratatouille
Serves 6-8 as a side dish, 3-4 as a main course
For the grilled vegetables
1 eggplant, medium to large
2 zucchini, medium
1 white onion, large
2 red bell peppers
3 TBs (45 ml) olive oil
Tomato base
1 28 oz (794 g) can whole peeled tomatoes, preferably San Marzano, coarsely chopped and liquid reserved
1 TBs (15 ml) garlic, minced
2 TBs (30 ml) olive oil
2-3 tsp (10-15 ml) fines herbes (or 1-2 tsp dried basil and 1 tsp dried thyme)
1 tsp (5 ml) kosher salt
1 tsp (5 ml) freshly ground pepper
Additional Salt and pepper to taste
Start the grill by igniting hardwood lump charcoal in a chimney. Once flames reach the top layer, dump the charcoal into the grill in an even layer and allow to burn down until the top is uniformly beginning to ash. You want a hot fire, but not roaring.
Prepare the eggplant and zucchini for grilling by cutting the ends, and then slicing length wise into 1/2 to 3/4 inch thick slices. The onion should be peeled and sliced crosswise into 1/2 to 3/4 inch thick slices. Leave the red bell peppers whole.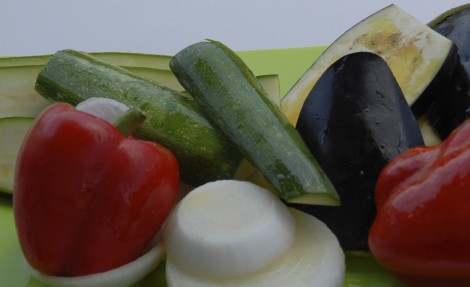 The vegetables can be brushed or tossed with olive oil prior to grilling. Take care not to over saturate the eggplant with oil, as it's a virtual oil sponge. Place the vegetables on the grill in a single layer and cook until browned and just beginning to soften. Turn and brown the other side. When finished, you want the zucchini to have a bit of bite to it, the eggplant to be browned and softened through, the onion almost translucent, and the bell peppers thoroughly blackened. In practice, I generally roast the peppers first while the fire is hottest so that the skins burn before the flesh is completely cooked through, then I roast the remaining vegetables.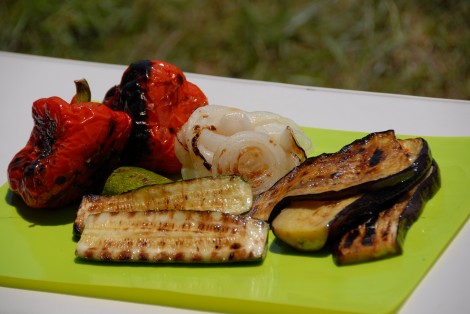 Remove the vegetables from the grill. The peppers should go into a small paper bag while hot, to facilitate removing the skins. Let everything rest for 10 minutes or so, until cool enough to be handled. Skin the peppers, and remove the seeds and ribs. Chop all vegetables into rough cubes, 1/2 to 3/4 inch on a side. Slice the onions and peppers into 3/4 inch squares.
While the vegetables are cooking, prepare the tomato sauce. Heat the olive oil in a sauce pan over medium heat and sauté the garlic until it becomes fragrant and begins to soften, but doesn't brown. Add tomatoes, herbs, salt and pepper and cook over medium-low heat until the sauce begins to slightly darken and the flavors meld, about 15-20 minutes.
Toss together the grilled vegetables and add the tomato sauce a couple of cups at a time until you reach your desired consistency. It should be bound together with the tomato sauce, but not 'wet'. See the photos as a guide. Adjust seasonings to taste.