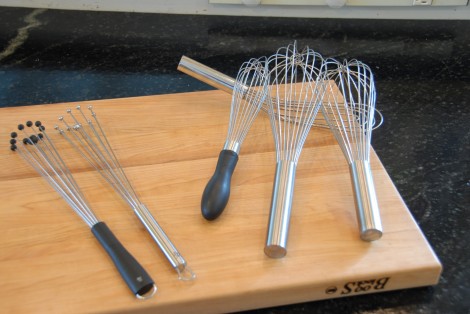 A whisk is not the single most essential travel cooking tool. That would be the knife, and I will have much to say about knives. However, a whisk is a very useful tool for everything from making sauces to mixing dry ingredients for a batter. Oh, and whipped cream – don't forget the whipped cream. This is especially true when you will be going somewhere you are unlikely to have a stand mixer at your disposal, or even a hand mixer.
When we are stripped of some of the modern conveniences that we enjoy in our home kitchens, the old ways of doing things become important; mixing doughs by spoon, kneading bread by hand, and whipping or aerating with a whisk. It turns out that it actually doesn't take that much longer once you factor in getting out the appliance, clean-up, and packing it away. And, it's kind of fun.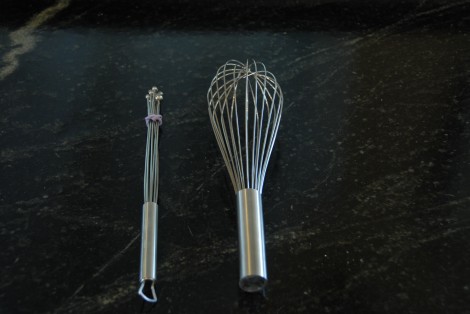 Whisks are also kind of bulky. Less bulky than an electric mixer, perhaps, but still annoying to pack. That's what led me to the WMF line of ball whisks. Rather than the traditional wire balloon shape, these have a number of stainless steel wires that end in a little ball. There are models in all stainless and also with plastic balls on the end, presumably better for non-stick surfaces. I like that the working end of the whisk can be wrapped with a rubber band or tied, and then it will fit nicely in a knife case or luggage.
I originally purchased a couple of these whisks just because I thought they would travel well, but in use I find that they are the equal, if not superior to, the traditional style whisk. They feel a little different in the hand, both because of the smaller grip and because they seem stiffer — but they do a great job. I also thought that the all stainless steel model might do a better job, with the mass of the stainless steel balls helping with the swing of the whisk wires — but I think the wires on the plastic model are slightly thinner, and so the results are about the same with either style.
Here is a video review, where I demonstrate the whisk and make some whipped cream.