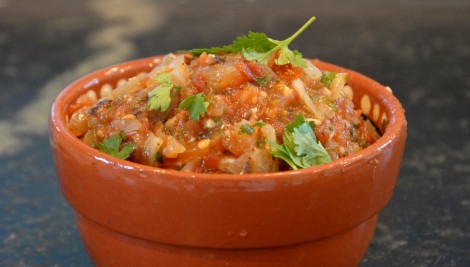 Summer is in full swing, and so my thoughts turn to outdoor entertaining, margaritas, and salsa.
Actually, that's not entirely true. My thoughts always turn to salsa. I have a salsa problem. I think of salsa as chunky gazpacho, and if it were socially acceptable I would eat it with a spoon. In fact, I see chips as edible spoons, to be sorted through to find the one with the best curl to carry the most salsa in one bite. In a restaurant, I will easily go through multiple bowls of salsa and not finish a basket of chips – which is good, because salsa is low calorie, vitamin dense, high in anti-oxidants and lycopene (perfect mitigation for those summer sun burns). Let's stop mincing words here, salsa is a super-food and far tastier than those stupid Acai berries. Did I mention it's good on eggs too? Either on a simple scramble, or the Austin favorite Migas, it's great. If you are one of those people who tentatively dip in a chip, shake it off, and eat the chip, then I think you are doing it wrong. If it's too spicy, make a milder version, I won't tell anyone.
Now, as much as a rabid salsa fan as I am, not all salsas are created equal. What I really crave is the roasted, tomato based salsas that I grew up with in Houston. Almost every restaurant had their version, although Pappasitio's is probably the most famous. My back of the envelope math suggests that they serve upwards of 10 million bowls of their salsa per year, and I remember it being made in 5 gallon buckets with immersion blenders that looked like small jack hammers they were so big. If that sounds like the opposite of what I write about, industrial and commercial food production, it isn't really – that salsa was made fresh several times a day, with fresh produce roasted on an open mesquite grill, and served while it was still warm from the fire (usually). No cans, nothing artificial. And it's good.
Fortunately, it's also very easy to make at home. The best way, the easiest way, and the most appropriate for travel is to use the grill. Just toss the ingredients on the grill, or use a grill basket if you want, and let them blacken. However, since it's been raining for two months straight I didn't have that option when I made this batch, and fortunately it works almost as well in the oven. You can even use a black iron frying pan or comal if you want.
Ingredients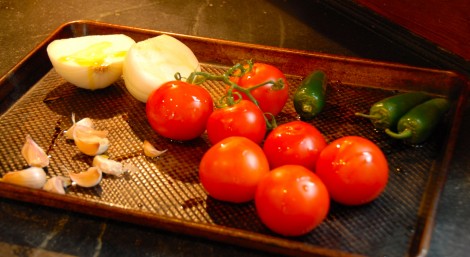 1 1/2 – 2 Lbs (.7-1 Kg) tomatoes – I prefer smaller, vine type tomatoes for this
1 large white onion, halved and skin removed
2-3 jalapeno peppers, see my tip on jalapenos
3-4 cloves garlic, unpeeled
3-4 Tbs (45-60 ml) olive oil
1/2 bunch cilantro
1-2 limes, juiced
1-2 tsp (5-10 ml) cumin, as desired
Salt and pepper to taste
Directions
You'll notice the ingredients list is pretty loose. It doesn't matter that much – if you want a milder salsa, use one pepper. If you want it hotter, use three. If the tomatoes are really ripe and sweet, or your limes are dry, you may need two. It's really a taste and preference issue. Go with the list of ingredients, but don't sweat the quantities too much.
On the grill: Lightly oil the tomatoes, onion, peppers and garlic. If grilling, place all but the garlic on a hot grill or in a grilling basket and roast, turning frequently. About half way through the roasting process, 5-7 minutes (after turning the tomatoes and pepper 1/2 way through a rotation) add the garlic. If you are using a grilling basket, just dump the garlic in. If you are grilling directly on the grid, put down a folded up piece of foil to keep the garlic from falling through. Or, just cut the top off a whole head of garlic and roast that in one piece, starting it at the same time as the rest of the ingredients and reserving the extras for other uses. Roast another 5-7 minutes until all vegetables are blackened, the tomatoes have ruptured and lost some moisture, and the garlic is soft.
In the oven: As above, either about 8 inches under the broiler or at 475 degrees. I find using convection helps, if you have that option.
On the stove top: Pre-heat a black iron frying pan, or black iron comal, over med-high heat. Add the vegetables in the order described above, and roast, turning every couple of minutes.
The finished product should look something like this: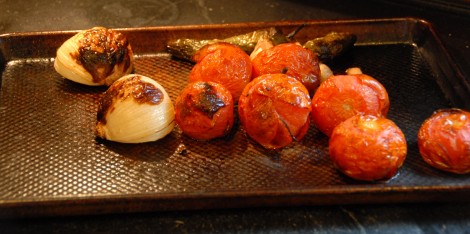 Allow ingredients to cool to the point where they can be safely handled. Use caution – hot tomato pulp causes really bad burns, and once you've burnt yourself the jalapeno juice is brutal. Trust me, I know these things.
If you have a food processor, add the peppers and garlic and pulse until finely chopped. Core the tomatoes, and add them to the container. Pulse very briefly until they are chopped but still very chunky. Add salt, pepper, cumin (if desired) and a hand full of cilantro leaves and pulse again, very briefly, until mixed – but leaving the tomatoes still a bit on the chunky side.
If you don't have a food processor, a blender can work if you are careful. Or you can hand chop it as well, just make sure not to loose all of the tomato juice off the side of the chopping block. For years I always hand chopped salsa, because I thought the texture was better. I bought a food processor and got right over that issue, but I'll still hand process salsa if I am at a vacation spot (usually without a food processor)
Hand chop the roasted onion to a medium coarse dice. Be very careful doing this. Roasted onions are slick, and all of those raw onion chopping moves that you know can get you in trouble. Go slow, and think more about slicing than chopping. I generally slice the onions in to thin wedges, and then slice across the layers (turning the wedges to stay perpendicular to the layers as I go) to get small enough chunks. You can't just process these, as if there is any raw part left in the center of the onion, and there may well be, it will get really bitter when processed. Add to the rest of the ingredients and mix, along with a few tablespoons of lime juice.
Enjoy with chips, tostadas, fajitas, tacos, eggs, a spoon – you get the idea. By the way, this recipe makes much more than pictured in the top photo. I sort of forgot to photograph it until after it had been mercilessly attacked with a bag of Xochitl chips. There was so little left I had to put an inverted custard cup in the bowl, with the salsa on top, so that there would be enough to photograph….