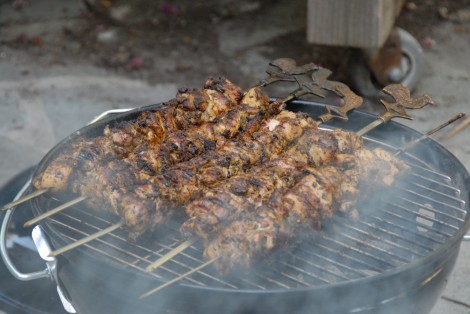 I stumbled across Aleppo pepper for the first time about 8 years ago. My cousin had brought me a container of muhammara from a little Syrian deli in New York, and I loved the stuff. I couldn't get enough of it, which was a challenge, because to make it properly you need Aleppo peppers. So the quest began.
I visited all of the Mid-Eastern markets and Halal meat markets in the area, asking for Aleppo peppers. Invariably, I got a response along the lines of, 'Hey, I'm Egyptian/Turkish/Saudi – why would I have Syrian peppers'. Which I get, because if you asked for Carolina pulled pork with a vinegar sauce in a Texas BBQ joint they would show you a map and then the door. So I was stymied in my quest for Aleppo peppers.
Until I went to Penzy's to refill on peppercorns and cumin. Sure enough, Wisconsin based Penzey's spices had Aleppo pepper in 4 different sized bags and jars. My muhammara making days could commence, and I now use Aleppo pepper as a condiment for anything that could use mild heat and a complex smokey character (which is just about everything).
When I read this article and recipe in Saveur, and saw that it involved Aleppo pepper, I was sold. I was also hoping to recreate the texture of the chicken kebabs from a local kebab joint, where the grilled chicken is moist and soft after being grilled, unlike the usual rubbery grilled chicken kebabs.
I adapted the recipe to replace the Turkish sweet pepper paste that I didn't want to mail order, and to reduce the heat a bit so that my kids would enjoy it. The end result was fantastic. The chicken was soft and moist, the flavors were rich and peppery without being overly spicy, and the dried mint added a complex sweet / bitter herbal note to the kebabs.
Just as an aside, I decided to grill these on the Weber Smokey Joe I reviewed yesterday, just to show it in action.
Note: If you can't find Aleppo pepper, or don't want to make a run to Penzy's, you can make substitutions. What you are trying to accomplish is a little heat, some sweetness, a little smoke (not really smoke, but close) – so, a teaspoon of hot chile flakes, and a teaspoon of chipotle flakes would work. If you don't have chipotle flakes, a teaspoon of Spanish smoked paprika would bring the smoke. Aleppo peppers are a unique flavor, but don't skip the recipe because you can't find them.
Mint and Aleppo Marinated Chicken Kebabs
Adapted from Saveur Magazine, No. 157
Ingredients
1 cup (240 ml) olive oil
4 Tbs (60 ml) dried mint
2 tsp (10 ml) dried thyme
2 Tbs (30 ml) Aleppo pepper flakes, see note above
2 Tbs (30 ml) concentrated tomato paste, or 3 Tbs regular tomato paste
1/4 cup (60 ml) roasted red peppers (from a jar is fine)
2 tsp (10 ml) Kosher salt
1 1/2 tsp (7.5 ml) black pepper
2 1/4 lbs (1 Kg) boneless, skinless chicken thighs, in 1″ cubes
Equipment: Hand blender, blender, or food processor with a small container;  Skewers, preferably long metal skewers but bamboo can work. If using bamboo skewers soak them in water for 15 minutes before use, and consider doubling them up so that the meat doesn't spin on the skewer when you try and turn the kebabs on the grill.
Procedure
Place all ingredients but the chicken in a blender cup, small food processor, hand blender cup – whatever you are using, and blend well.
In a large bowl, coat the chicken with the marinade thoroughly and either cover or transfer to a 1 gallon (4 L)  plastic storage bag and refrigerate for at least 2 hours. At some point all of the strong flavors will overpower the chicken, so I wouldn't leave this overnight.
Skewer the chicken, trying to keep a uniform density of chicken along the kebab. You don't want to fill the whole skewer, but you want the meat compacted in a row along the skewer.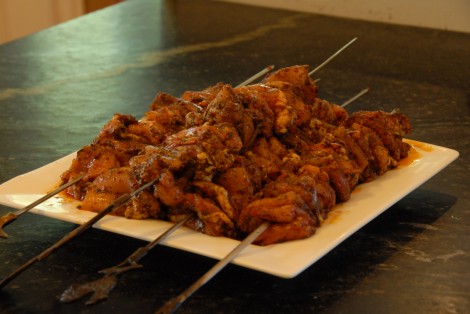 Grill over a hot fire until cooked through, turning so that all four sides are nicely charred and the center is done.
Here's a video with some elaboration, and demonstrating the grilling —
You may also be interested in my review of the Smokey Joe, and in my lamb kebab recipe: