Summer time, summer time. Pulled pork, BBQ chicken, smoked brisket, and burgers on the grill. What do all of these have in common? They are all grilled. They are all meat. Three of them are considered bar-be-que, and they all come off the grill…. Ok, so they have several things in common. The one I'm looking for is that they all go great with a side or topping of coleslaw. As does fried chicken, fried catfish, roasted or splatchcocked poultry, crab cakes – really, anything cooked from Maryland to the Keys.
Unfortunately, coleslaw can disappoint. There, I said it. Chopped cabbage drowned in mayonnaise, with a lone carrott shaving or piece of purple cabbage to contrast the pasty white glopp-iness of it all, is not what coleslaw is supposed to be. If that's your experience with coleslaw, please give it another chance. It should be sweet, and tart, and crunchy, and just barely bound together.
This coleslaw recipe makes a slightly creamy, vinegary slaw, which would be great on a pulled pork sandwich or next to a plate of fried chicken. First the cabbage is wilted in vinegar and sugar, before being dressed with a mayonnaise based dressing. The dry mustard gives it a small but noticeable kick. You'll notice that I call for Old Bay seasoning; as I mentioned in Bloody Marys at Bonnaroo, I am usually out of celery salt and Old Bay is a good substitute. If you have celery salt, feel free to use that instead. Finally, you'll notice that I grate the white onion. Yes, grating onion makes it watery and bitter – but it works here, and it's just the way it's always been done. I'm up for most challenges, but rewriting 100 years of Southern culinary tradition is not a project to start on a Thursday.
Ingredients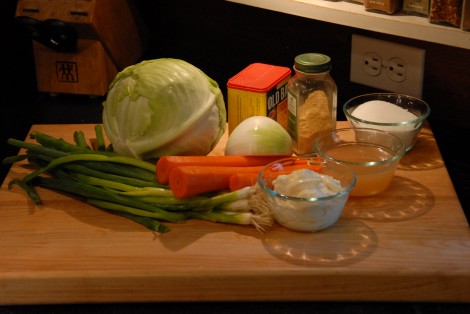 1 2 lb (1kilo) head cabbage (medium-small)
1 1/4 cups (300 ml) apple cider vinegar
1 cup (240 ml) sugar, granulated
2 – 3 carrots, medium-large, peeled and grated on the large side of a box grater
2 Tbs (30 ml) grated white onion, about 1/2 medium onion, peeled and grated on the medium side of a box grater
– grate the onion just before use, don't let it sit around
4 green onions, thinly sliced whites and tender portion of the greens
3/4 cup (180 ml) mayonnaise
2 Tbs (30 ml) sour cream (optional)
1 Tbs (15 ml) dry mustard
2 tsp (10 ml) Old Bay seasoning
Salt and pepper
Procedure
The cabbage must be finely shredded. I used a mandolin to accomplish this at home, also known as 'the widow maker' and 'the scariest implement in the kitchen'. I'm convinced that the mandolin and the table saw have a bet as to who will get a finger first, but so far I've prevailed. I don't travel with a mandolin though, nor do I expect everyone to have one. It's easy to shred the cabbage without one, and only takes a little longer if you include cleanup.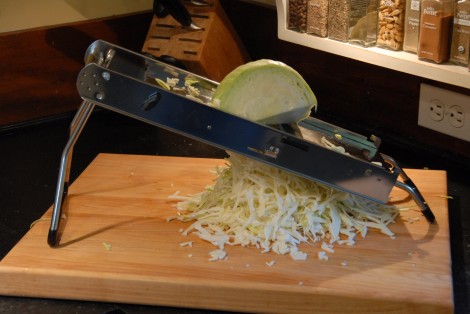 Remove the tough outer leaves, quarter the cabbage, and cut out the core. Placing a cabbage quarter on its side, finely slice into shreds no thicker than 1/8 inch (2-3 mm). This should yield around 14 cups (just under 1 L) of shredded cabbage. Place the cabbage in a large bowl.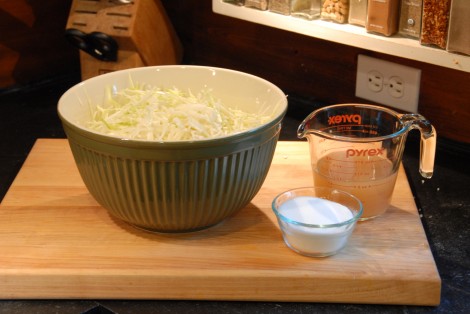 Mix the vinegar and sugar together, with a teaspoon of salt (5 ml) and pour over the cabbage. Toss well, and let sit for 30 minutes. I weighted it down with a small plate. This process will work better at room temperature, but if you are pressed for time you can place it in the refrigerator so that the coleslaw is chilled on completion. After 30 minutes toss again and let stand another 30 minutes. After standing, the cabbage should be somewhat wilted and more compact. Drain the cabbage, pressing down and tossing to remove most of the vinegar.
Add the carrots, grated onion, green onions and toss.
Mix together the mayonnaise, dry mustard, Old Bay, and a teaspoon (5 ml) of pepper and dress the cole slaw, turning and mixing well.
Refrigerate until chilled, and serve with just about any summertime dish. This goes great with Fried Chicken, and while you're at it serve a side of Biscuits.